Thumbzilla Review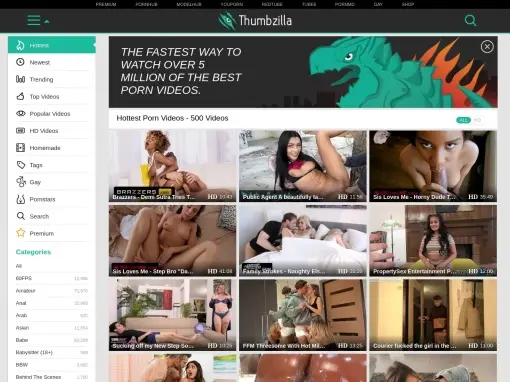 All hail the King! And, for once, I'm not referring to me. Yes, it's the Heralded Hub of Hot Smut, cyber Home to Hentai, Titan of Tube Sites, and Heart of the Pornhub Empire.
That's right, we're looking at Thumbzilla.com, the so-called King of Porn.
Hosting videos from Pornhub, RedTube, YouPorn, Tube8, PornMD, Xtube, Pepperz and a bunch of gay tube sites – holy shit, that's a lot!. Thumb Zilla is one of the top smut sites in the world and links you to pretty much all of the more popular ones. While not really a tube site (it's a porn aggregator, as if most of you fuckers really care) it acts as the hub for the Pornhub Network from which you can see titty-laden content all over the net.
Thumbzilla
Check More Sites Like This